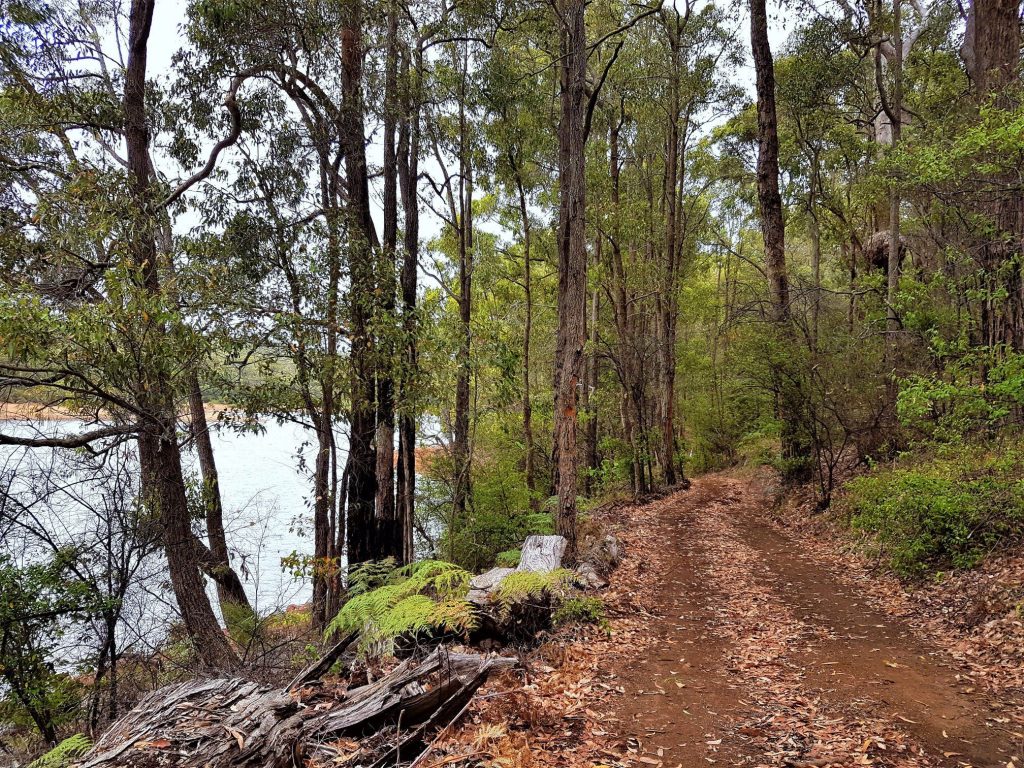 The Wiilman Bilya is a dedicated 5-day, 4-night walking trail, stretching 87 kilometres in a loop that starts in the town of Collie. The trail winds through Wiilman country and Westralia Conservation Park to Wellington National Park and around Wellington Dam, providing sweeping views of the Collie River valley and wide expanses of water. Imposing granite outcrops and the scents and sounds of the magnificent yarri (blackbutt), marri and jarrah forest along with wildlife encounters offers a unique and unforgettable experience.
This must-have fold out map contains important trail and safety information so that you can focus on enjoying the walk and its natural surrounds and can be purchased through the Collie Visitor Centre.
The trail is marked with a symbol of a walking footprints mounted on metal posts along the trail. The Wiilman Bilya trail is a moderately challenging trail that will have you walking over a series of bridges, logs, along farm fence lines, over the pipeline, through the forest, under tall trees (also under some mega tall grass trees that will exceed your height), over granite outcrops and up and down some sloping hills.

Interesting Facts about the Wiilman Bilya:
This trail is named after the traditional Noongar group (Wiilman) and the Noongar word for river (Bilya).
The word Nyingarn in Noongar means echidna.
Although this trail is beautiful to walk all year round, we suggest the best time of year is the August to November months. This is when the bush is lush green and alive with colour from all the wildflowers.
For maps and information, visit the Collie Visitor Centre at 156 Throssell Street, Collie.