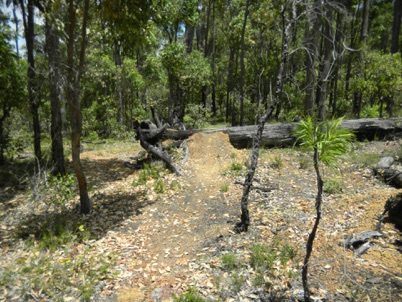 Ray's Trail is located on the outskirts of Collie and is part of the Arklow Network. It is a great example of how to cram as much single track as possible into a small area, twisting and turning on itself many times.  The trail runs in a clockwise direction. The first few kilometres are mainly flat (and twisty) before some fun bermed downhill. What goes down must come up, and the only major climb on the trail follows. The final section of the trail is signified by several large, but safe, log rides.
The car park for the trail is located on the Harris River Road (also known as Collie Tallanalla Rd), at the top of the hill just past the Harris River Estate Winery. You can ride to the trail from the centre of Collie on the Munda Biddi.
Map can be downloaded here.
Location
7kms North of Collie