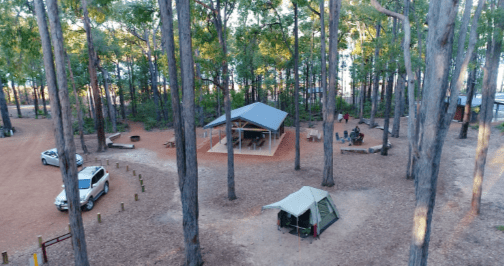 Situated on the shores of Wellington Dam, in a shady forest setting, is Potters Gorge with good views across the back waters of the Dam. The campground has been upgraded to accommodate large vehicles, caravans, tents and camper trailers.
Potter's Gorge has 60 camp sites. Bookings must be made prior to arrival via Explore Parks. Map of campsites can be downloaded here or obtained free from the Collie Visitor Centre.
Along with the individual campsites, the new campgrounds have a large group area and day area, camp kitchen and a drop point.
Picnic tables and wood barbecues are provided, while the adjacent day use picnic area has gas barbecues, toilets and change rooms. Non-potable water is provided.
Campfires are allowed between the hours of 6pm and 10am in the cooler months and are to be contained in the designated fire pits only – not on open ground. Please clear the area around the pit to prevent a bush fire. Check current campfire conditions.
The use of generators are permitted between 8am-9pm unless there is a total fire-ban in place. Please check the DFES website for total fire-bans. Please remember to respect others and take into account how the noise could affect other campers.
The beach entry into the water makes it a popular spot for those with small children as the water is shallow on entry and is a bit warmer than the river.
Fishing, canoeing, swimming, bush walking and the nearby mountain bike trails are popular local activities.
Water skiing
Water skiing is permitted on a small section of Wellington Dam, at Potters Gorge. The water ski area is for deep water take off only.
Take-off and landing of skiers from shore is prohibited. Skiing is permitted between sunrise and sunset. A five-knot speed restriction applies at all other times. All waters of Wellington Dam extending to 200m east of the dam wall are closed to all vessels at all times.
Skippers should note that the majority of the dam remains closed to motorised vessels and there is a 200m exclusion zone to all vessels from the dam wall. In addition, a five-knot speed limit applies from the launching ramp and for waters around the ski area north of the southern boundary.
Freestyle driving of personal watercraft (also known as jet skis) is prohibited on all waters of Wellington Dam. Personal watercraft can only be used to conduct water skiing activities within the designated water ski area. The closed water areas and five-knot speed limit apply to PWCs.
Location
Wellington Weir Road, Wellington National Park