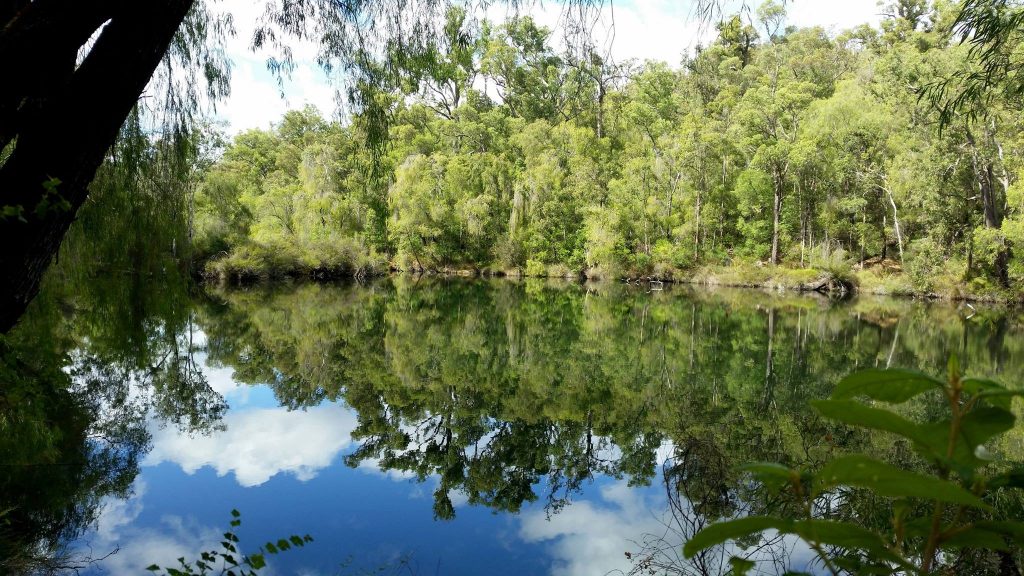 The Jabitj Walk is a 6km long (12km return) trail, that follows the Collie River below the Wellington Dam. It offers stunning views over tranquil river pools and cascading rapids.
This trail is a class 3 walk and takes 1-3 hours to complete one way, depending on how leisurely you take this walk. You can start from the popular campsite of Honeymoon Pool or start from the Kiosk at the Dam. The Jabitj Walk Trail is marked by a green triangle with a boot-tread/footprint on it.

While this trail is set along the Collie River, it can be quite hilly terrain on the Kiosk at the Dam half of the trail, the Honeymoon Pool end is quite flat and family friendly. If your after a slight challenging hike, do the whole 6km (or 12km return) where you will be challenged with hills, rocky surfaces and during the winter some smallish creeks/water runoffs to cross. Want to make it family friendly, start at the Honeymoon Pool end of the trail and hike along the fairly flat surface until you reach your first steep incline. From there, turn around and make the return trip back to Honeymoon Pool.
Photographic opportunities are everywhere. Each bend in the river offers another secluded pool with crystal clear water, weeping peppermint trees and granite outcrops. There are huge old logs that have fallen in the river many decades ago, that are now home to a variety of mosses and fungus.

Dotted along the trail you will come across information signs that talk about the native flora and the way these plants were used for bush tucker.
Fun fact: Did you know Jabitj means Running Water in the Noongar language.