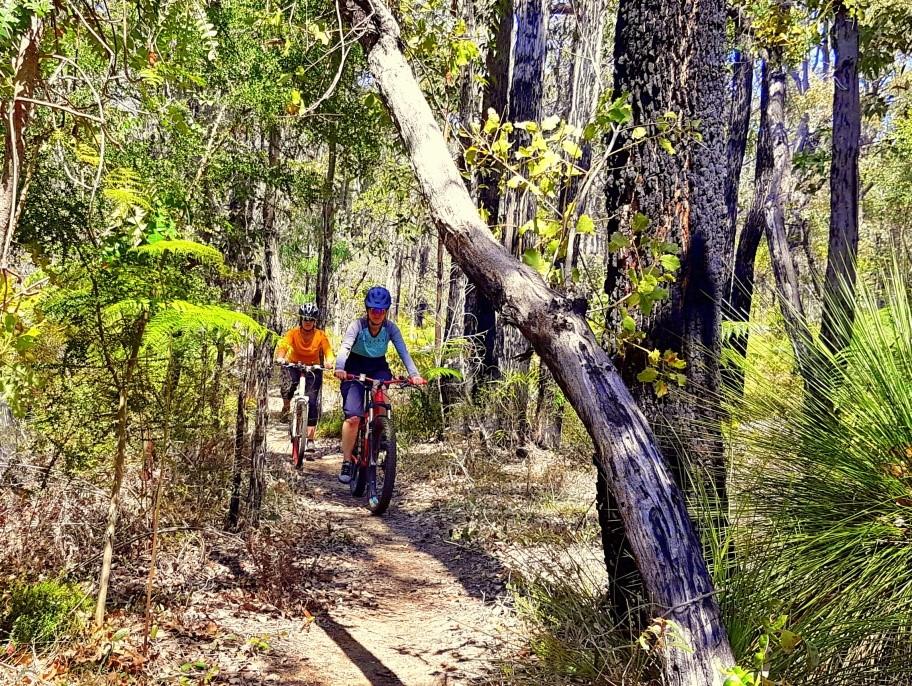 The Arklow Trail Network is situated approx. 5 km north of Collie on Harris River Road. You will find the trail head at Ray's Trail car park, on the right hand side, just past the Harris River Estate Winery and with over 35 km of trails to ride, there is something for everyone.
There is a sign at the trail head with distances and information about each trail or you can download a map here.  Otherwise visit the Collie Visitor Centre before heading out to pick up your map and for other information. Maps are also available at Crank'n Cycles Collie and the guys in the shop can provide firsthand experience about the local trails.
The Arklow Trails can also be accessed by riding out from town along the Munda Biddi Trail or by using the local shuttle service, TraaVerse.
Arklow Adaptive is a 9.2 km green loop that is suitable for all the family. The trail has been rated under the Australian Adaptive MTB Guidelines as Highly Accessible meaning it is suitable for people who use hand cycles. This trail is a mix of modern flow trail and old forestry tracks. Take it easy or tackle it with speed for a more challenging and rewarding ride. And if you want a longer ride, add Railway Rise and Jarrah Jaunt for an easy 13.5 km loop.
Or, for an even longer ride, you can add Highland Highway and Pet Cemetery, creating a fun green circuit of about 21 km.

Railway Rise – A 2.5km green climb up an old formation road through the jarrah forest.  It's not a steep climb, but doesn't give you much rest along the way.
Highland Highway – It's not quite a highway but this 3.4km green link uses old forestry roads, meandering through beautiful jarrah and sheoak forest.
Jarrah Jaunt might only be a "fire road" but its's a great 2.7km descent through the heart of the Arklow and some magnificent forest.
Around About Arklow is a 4km green link down Arklow Road to the Munda Biddi and Pet Cemetery trails.
Pet Cemetery is 4.9km of green climbing trail, following an old reailway formation and a great link back.
Dead Cats and Mornington Glory are both modern, blue, single track with plenty of technical features and challenges along the way. Combine them with The 220, Scar Road (220 Return) and some of the green trails for a challenging and enjoyable 27 km ride. Dead Cats is another hotspot for wildflowers in September/October.
Ray's Trail is 7.5 km of old school, blue, single track. This trail is quite technical with lots of twists and turns. It can be accessed directly from the Harris River Estate, and if you contact them, they offer free secure parking. All the other trails in the network can be accessed from Ray's Trail making it the prefect starting point. The wildflowers, including fairy orchids, are quite spectacular in the spring along this trail.
The 220 Trail is one of the best blue trails in WA. It winds its way along the 220 contour for 6.2 km all the way to Harris River Dam with fantastic views through the jarrah forest. Ride it one way or use the Scar Rd, 220 Return to link back into the network. This trail is built to ride fast with a challenging rock pile feature at the northern end.
New Trails
220 Return is a 'classic' blue cross county trail climbing and descending over 7.5km with top notch table tops, berms, roller and log rides (including an unforgettable optional black log ride) and fast flowing descents.
Trail 7 is 4.5km of challenging blue rocky climb, with multiple log rides and the sweet reward of a rapid roller coaster descent to re-join the Munda Biddi Trail.
Note: Some moderate (Blue) trails contain short alternative lines with Difficult (Black) routes and obstacles.