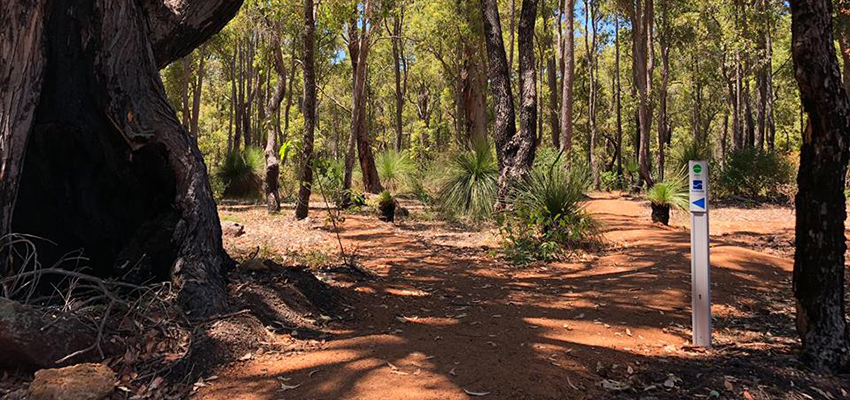 The newest of the Collie MTB Trails the Collie Wagyl Biddi starts at Soldier's Park and consists of five trails that are suitable for riders of all levels and hand bikes.
The trail is designed around a key beginner classification spine trail linking Soldiers Park to Reserve 15783. Connecting loops, ranging from beginner to intermediate, provide a variety of riding experiences. All loops can be ridden as a circuit without crossing or doubling back which is advantageous for racing formats.
The trail is named after the mythical rainbow serpent which according to legend created the Collie, Preston and Brunswick Rivers. The Biddi section means path or trail and matches in with the connecting Munda Biddi which terminates at Soldier's Park.
Wilman Trail
Meaning 'freshwater people' after the local indigenous people. An easy 3.2km track transverses the banks of the Collie River and forms the gateway to the Collie Wagyl Biddi network, linking Soldier's park with the rocky woodlands to the south of town. The Wilman Trail is scenic, approachable and entertaining and is an ideal introduction to the mountain biking on offer within the Collie River Valley.
Sprocket's Rocket
Named after local bike shop owner, Erik's cat Sprocket and the bike part. An easy 800m track, Sprocket's Rocket completes an outer beginners' loop which is suitable for all riders. Incorporating the three fundamental aspects of mountain biking, to climb, to traverse and to descend. Sprocket's Rocket is a 'universal grin creator' kind of trail.
Rocky Horror
Named after the rock formations and nature of this trail a moderate 1.7km for lover's of technical lines through lateral choice! The first of three moderate micro-loops within the network, Rocky Horror balances a heavy dose of rocky, single-track with a touch of flow. Rocky terraces into roller coaster berms. Rocky Horror is a great taste of what the Collie Wagyl Biddi trails have to offer.
Drop Dead Fred
Named after the bag of bones found during construction, this is a moderate 1.6km and the second of three moderate micro-loops. Drop Dead Fred is best described as a series of berms, rollers and jumps nestled in amongst the rocks. Both entertaining and challenging, often at the same time.
Marri Meander
Named due to the prevalence of marri and nature of this trail, Marri Meander is an 850m trail that climbs and descends through some of the rockiest and most densely-forested areas within the Collie Wagyl Biddi network. Skipping over rocks and dancing through trees, Marri Meander will keep riders on their toes.