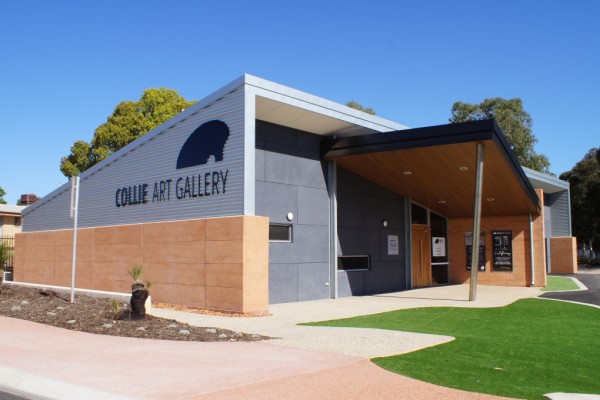 The gallery offers a diverse range of workshops and development programs suitable for artists at all levels, from primary-school-aged children right through to seniors, absolute beginners to experienced artists. Artists with skills to share are encouraged to hold workshops at the gallery.
The gallery also offers a unique range of mainly hand-made crafts and artwork by local artisans for sale in the gallery's gift shop.
The Collie Art Gallery has gorgeous wood turned bowls, platters, vases and pens and lovely screen printed tea-towels on sale.
If you head on down to the Art Gallery you will be greeted by a beautiful sculpture called 'Reflective Regeneration'. The theme of the sculpture is to explore the mysterious properties of how 'light' interacts with reflective objects and how the 'observer' becomes an integral part of the process. Within this interactive process is a phenomenon known as 'entanglement', which essentially describes the transfer of information. In this case it's the reflected images of the 'passing crowd'. This beautiful piece was created by Smith Sculptors at Aislinn Studios from Gidgegannup.
Opening hours
Open to the public Thursday to Monday 10am - 4pm.
Location
134 Throssell Street, Collie WA 6225
Website
http://www.collieartgallery.org.au/
Phone
(08) 9734 2921
Email