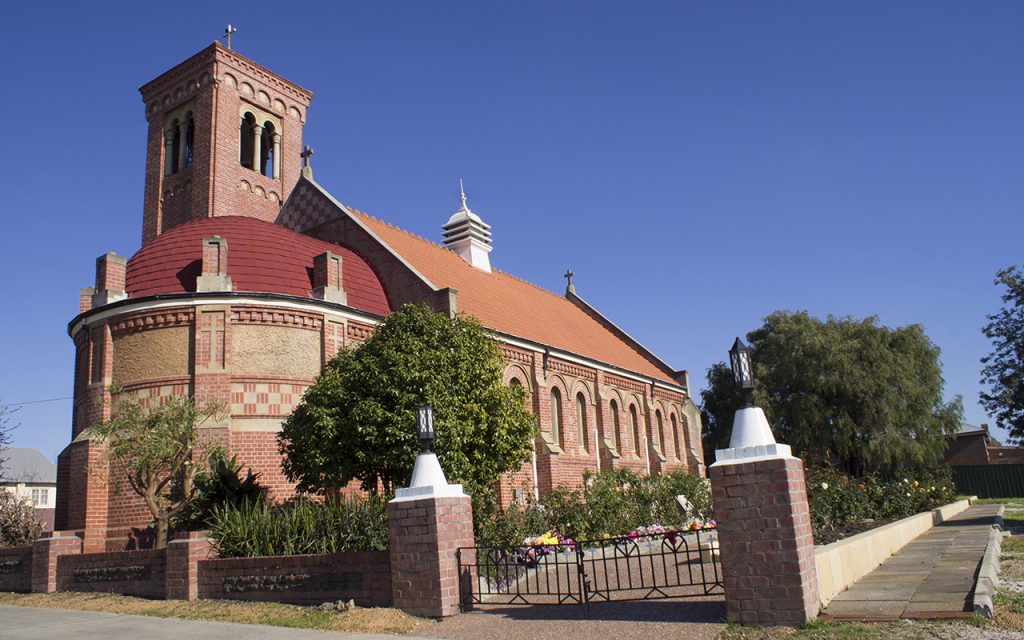 The Byzantine and Romanesque style Church was built in 1915 as a memorial gift and was consecrated by the first Bishop of Bunbury, Dr Frederick Goldsmith. All Saints' Church is 23.47m long and 8.534m wide. The builders made use of nine different types of brick with extensive use of local jarrah, banksia and ebony timbers in it's interior. The Church can seat up to 200 people on jarrah polished pews. It was originally built with out the campanile (bell tower), which was added in 1928 and stands at 9.814m tall. The campanile holds a set of eight tubular, mechanically operated bells, which were donated in 1929.
The interior of the Church includes a beautiful mural by artist Philip Goatcher, painted in 1922. The colourful mural depicts thirty individuals, including the Madonna, religious figures, historians, pastoralists, coalminers and aborigines. It is considered to be the most outstanding of Mr Goatcher's work. The mural is 11m long and 2.45m high and has had extensive restoration carried out in 1996.
The Church houses a very unique wood pipe organ that was made and installed in 1965. It is made of meranti timber, which was chosen due to its hardness and resonate qualities. It took 6 months to complete and uses many German parts. It is thought to be the smallest wood pipe organ in Western Australia and also possibly Australia.
Displayed right round the Church, you will find 17 stunning stained glass windows. These memorial stained glass windows were commissioned in 1985 and took less than a year to complete. The windows on the south side portray events from The Annunciation to the beginning of Christ's ministry. The north facing windows depict the sequence of events after His resurrection to Pentecost. The west end shows the Baptism of Christ and the Transfiguration. The Sanctuary windows represent cherubim, seraphim and angels flanking the alter. All windows are memorial windows dedicated to local identities from the Collie community.
Opening hours
By appointment through the Collie Visitor Centre or Sunday service from 9am
Location
46 Venn Street
Website
Phone
08 9734 2051
Email