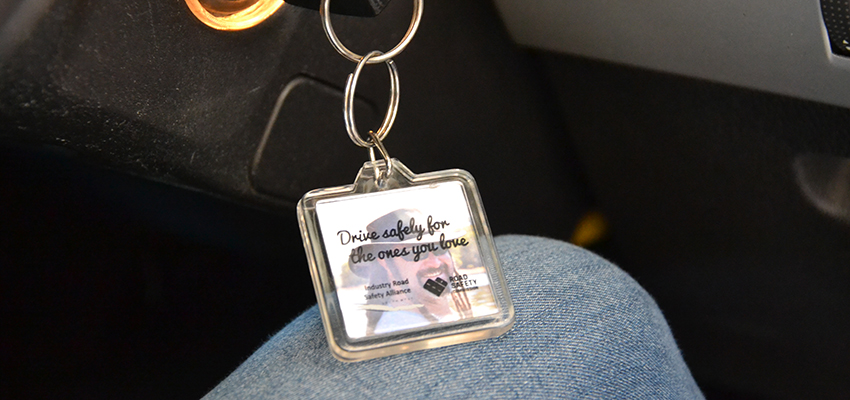 Despite significant road improvements and ongoing awareness campaigns, too many people continue to be killed or seriously injured on our roads.
A new project in the South West is hoping to curb this trend by reminding drivers of the reasons they should make every journey a safe one.
The Industry Road Safety Alliance South West has produced 10,000 keyrings that connect the action of turning the key in the ignition with the driver's loved one.
Drivers can insert a photograph of their most precious friends and family into the acrylic, framed key rings that also have a road safety message imprinted.
Key rings are available from the Shire of Collie administration office for a limited time.
Alliance Chairperson Micheal Hay said the keyrings were a tangible object that helped connect the importance of family with driving safely.
"It's the little impulsive actions such as poor merging or glancing momentarily at your phone that can lead to big tragedies on our roads," said Mr Hay.
"If we think about our loved ones every time we turn the key, it gets really easy to make those decisions to slow down, wear our seat belt, or find another way home if we have been drinking or are fatigued."
Alliance Project Manager Sarah Stanley hoped the keyrings would also spur conversations with family and friends.
"We often put our keys down in front of others on a bar table or kitchen bench while we are having a conversation," said Mrs Stanley.
"So, we're hoping that putting the photos of people's families on display alongside the road safety message will help spread that message throughout the community."
The awareness project is made possible thanks to sponsored funding from the Road Safety Commission, the Road Trauma Trust Account and the Minister of Road Safety.
For more information, visit www.industryroadsafety.com.au.
Free counselling is available for anybody impacted by road trauma. Contact Road Trauma Support WA for more information.