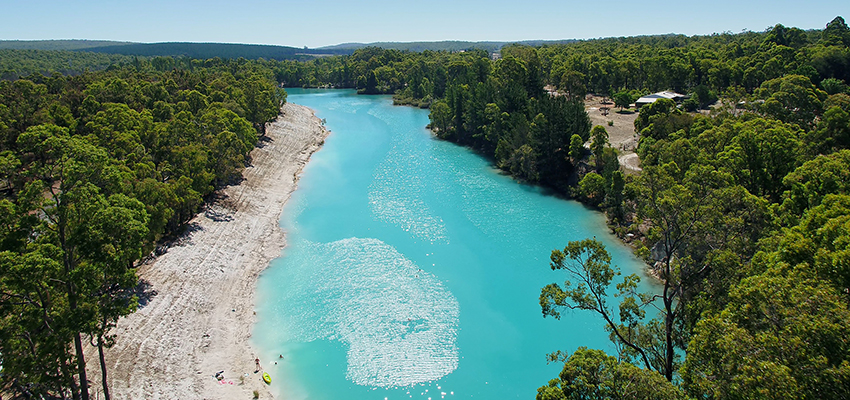 The social media-driven popularity of the Black Diamond swimming hole has the potential to bring more tourists into the nearby town of Collie, boosting the local tourism industry and providing flow-on effects to local businesses.
With help from a State Government grant, a local marketing group is able to embark on a study to identify what steps need to be taken to effectively manage Black Diamond to be able to capitalise on the influx of day-trippers visiting the unique natural asset.
Known for its intense blue waters, Black Diamond is a historical abandoned mine site that was mined between the late 1940s and early 1950s before being filled with water to create a pit lake.
In recent times, visitors have been inspired to visit Black Diamond after seeing it on social media platforms such as Instagram and Facebook.
Collie River Valley Marketing (CRVM) was recently awarded $70,000 under the Collie Futures Small Grants Program, which was set up to aid the diversification of the local economy in Collie.
The grant will be used for a feasibility study on the lake's management and encouraging visitors into the town centre.
CRVM committee member Rosanne Pimm said there was an opportunity to capitalise on Black Diamond's popularity.
"Collie has the opportunity to capitalise on the thousands of visitors crowding the area particularly during the summer and holiday periods by providing an experience that will encourage visitors to stay longer and spend in Collie," she said.
"We are working collaboratively with community stakeholder groups and are keen to hit the right balance between welcoming visitors to a managed site and also being respectful of the local community who have properties backing onto the lake.
"A managed site with facilities will provide visitors with a memorable experience at a unique, beautiful recreation site located on the trails network close to Collie.
"This will provide the opportunity to capture the significant numbers visiting the site and encourage visitors to stay for an extended period in Collie.
"This will, in turn, provide for extra business activity/opportunities and the need to create more job opportunities."
Collie-Preston MLA Mick Murray said he was "proud to see this funding go towards a project that will deliver direct benefit to the town and local economy".
"We already know that Black Diamond lake is an incredibly popular tourism destination, so this grant will help to capitalise on the influx of visitors and encourage them to visit the town centre, where they can spend their money and boost the local economy,' Mr Murray said.
"This importance of this funding is also very much about the responsible management of the environment at Black Diamond Lake, so we can have a sustainable, long-lasting attraction.
"The power of social media and our love for sharing photos has resulted in the booming popularity of this swimming spot, so with the use of this $70,000 grant, I am excited to see how this area will potentially transform, bringing benefit to our local economy."