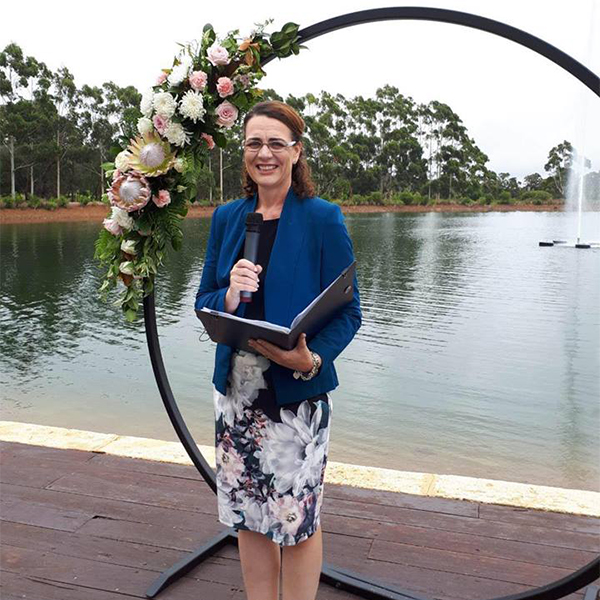 For a long while, I have wanted to be a celebrant. Now it has become a reality.  I have been married since my husband and I decided to elope in  2001 and wish sincerely for every couple I meet to have a wedding ceremony that represents who they truly are – much like my husband and I did!  Fast forward since then, we have two children, two dogs and enjoy travelling, camping and spending time with each other.  But, that's me…
Based in Collie, in the picturesque Collie River Valley, I am available to officiate at weddings all over the South West and beyond.  I have my own accommodation in Perth and Walpole, and will happily come to where you are. 
What being a celebrant truly means to me is… making it about you.  I would love to have a chat with you and explore exactly what we can do together to make sure your day is the way you envision it.  It would be my dearest wish to help you realise the ceremony of your dreams…
Based in Collie in the South West of Western Australia Your Way Celebrant Services will help you create your ceremony and ensure it is uniquely yours. I use my creativity and experience to make your special day turn out exactly how you want it. Whether you're planning the next big Wedding, commemorating the passing of a loved one, or welcoming a new life into the world, I'll make sure every ceremonial detail is taken care of. I am a member of the Australian Federation of Civil Celebrants.
Opening hours
Monday Open 24 hours
Tuesday Open 24 hours
Wednesday Open 24 hours
Thursday Open 24 hours
Friday Open 24 hours
Saturday Open 24 hours
Sunday Open 24 hours
Website
https://www.yourwaycelebrant.com/
Phone
0419 945 876
Email