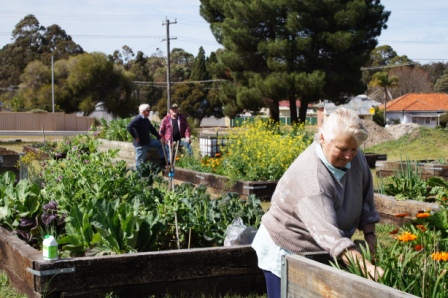 Community Gardens are becoming a very popular community project as they unite people from a range of ages and cultural differences in a common interest.
Through social interaction, this creates a place for all walks of life to share their knowledge of gardening and it provides a place for those of the community who otherwise may find it difficult to access traditional recreation and leisure options in the community.
"Our Community Garden Collie" is a relatively new community project started in 2011 by an ad in the Collie Mail for interested parties. It quickly grew into the popular, thriving garden it is today complete with raised veggie beds, a Wicking Bed and higher raised beds for those who have mobility problems and can't access the lower beds.
Nyoongar elders and members of ''Our Community Garden Collie'' have constructed an interactive walk that showcases the most popular trees and plants the Nyoongar people would use for bush tucker and other uses such as dyes, glues and shields.
The garden is always open to the public and with benches throughout the garden and walk trail you can always find a quiet spot to relax.
Opening hours
Always open. Busy bees on Friday mornings. Everyone welcome
Location
Corner of Bunbury and Prinsep Street, Collie
Phone
0411 953 268