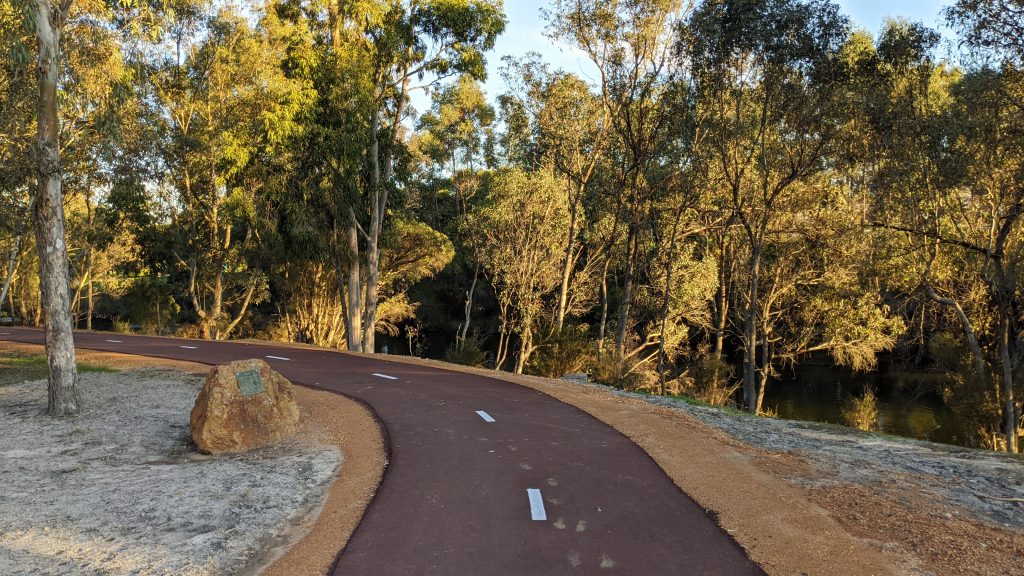 The Collie River walk is a well marked 13km track that follows the Collie River and is suitable for walking and cycling (sealed sections are suitable for prams and wheelchairs). Picnic facilities, parks with play equipment and information shelters along its length make for a relaxing outing for the whole family.
The walk has many interesting and unique attractions along it's path, such as;
The Swinging Bridge (a suspension bridge with river views)
Dog Agility Course (a series of ramps, jumps and obstacles to test your canine friends skills)
The Arboretum (a display of various Australian native trees planted in 1922-1929)
Railway Bridge (currently in operation, the trail goes underneath the bridge)
Soldiers Memorial Park (includes a war memorial, rose garden and kids playground)
Co-op Bridge (the only remaining bridge crossing from Collie's early days)
East End Bridge (has a walkway that provides a great view of the Collie River)
Fred Scharf Lions Memorial Park (features BBQs, picnic tables and play equipment)
Minninup Pool (a wide stretch of the Collie River, ideal for swimming, kayaking, picnics, wildflower looking and feeding the ducks)

Parking is available at the Soldiers Memorial Park, East End Bridge, Fred Scharf Lions Memorial Park and Minninup Pool. With so many parking locations along the trail, you can choose to walk sections of it, without the need to walk a whole 13km. A popular section to walk is the Bridge to Bridge section, which is approximately a 2.5km loop. Starting at the Co-op Bridge near Soldiers Park, walk along either side of the river till you reach the East End Bridge, then return by walking the opposite side of the river.
Contact the Collie Visitor Centre on (08) 9734 2051 or info@collierivervalley.com.au for more details and a map.