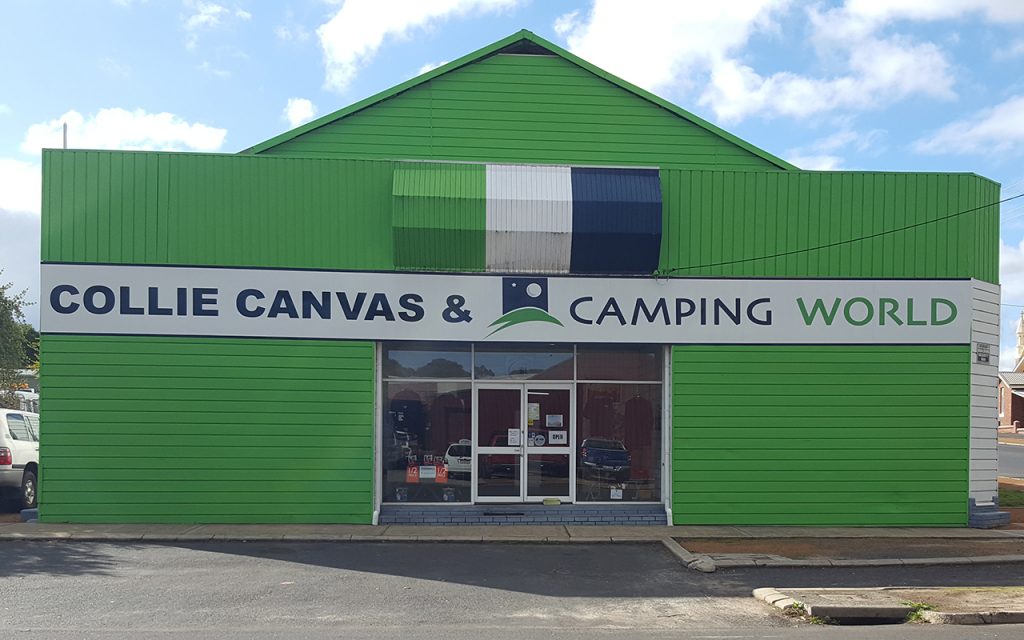 Camping or Glamping – We've got you covered
When you first walk into Collie Canvas and Camping World the first thing you notice is the massive range of camping equipment on the shelves and lining the walls. Then you get that big country Hello that is so lacking in city stores these days.
Kaylene and Gary Evans have been running the store for over 26 years and have built up a vast knowledge of everything camping. They take pride in offering outstanding service to their customers and as a result people come from miles around to purchase the latest camping gadgets and equipment.
Whether you like to travel light and sleep in a swag with the basics or go for the whole glamping thing with all the mod cons, they will get you sorted in no time. They have a vast range of tents and bedding, fridges and eskies, tables and chairs, Webbers and gas stoves, chemical toilets and ensuite tents…….
What they don't have you probably don't need anyway!
Opening hours
Monday: 8:30 AM - 5:00 PM
Tuesday: 8:30 AM - 5:00 PM
Wednesday: 8:30 AM - 5:00 PM
Thursday: 8:30 AM - 5:00 PM
Friday: 8:30 AM - 5:00 PM
Saturday: 8:30 AM - 1:00 PM
Sunday: CLOSED
Location
64 Johnston St Collie, Western Australia
Website